Over the years, on visits to Mission sites I have picked up nativities. And when people think of you as collecting something, they add to the collection as gifts.
As a result, I have beautiful Nativities from Thailand, Zimbabwe, Uganda, Peru, Ecuador, Mexico, and more. Each unique, in size and in the number of pieces.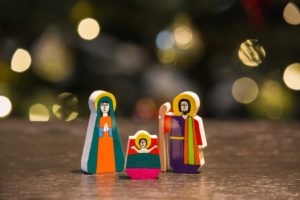 What I believe is important about the international representation of the birth of Jesus is the reminder that His birth is for all people and is celebrated across the world.
Christ's humble birth is recognized as God's great gift to all mankind, the sign of God's great love for us all.  From office buildings in Los Angeles to  those living on the Napo River in Peru, to the Kilimanjaro region of Tanzania, lifting all with hope.
In this season of Hope and Joy I am always reminded of this.  As Mission Doctors serve in some of these remote locations, sharing their professional medical skills, as a wittiness of God's love, they share this hope everyday.
Those of us at Mission Doctors wish you and your families a Christmas filled with this Hope and Joy.
Elise Frederick