Mission Doctors Association is now accepting nominations for the 2021 Catholic Doctor of the Year. The award recipient will be chosen from nominations received from around the country and honored following the annual Archdiocese of Los Angeles Annual Mass Celebrating Catholic Healthcare Professionals. This is an opportunity for patients, colleagues, friends, and family members to recognize an outstanding Catholic doctor.
To submit the name of a qualified doctor(s) for consideration fill out an application form online or download and complete an application and send it to Mission Doctors. All forms are due by July 15 by mail or fax.
Today Catholic doctors face many challenges as they strive to meet the needs of their patients in the context of their own faith and calling. Many go well beyond the role and responsibilities of their profession, offering care that truly reflects the love of God. For some this is obvious in their own practice, for others this takes the form of volunteering in their community or mission work that may be domestic or international. Their exemplary actions bear witness to the highest values of the Catholic doctor.
---
In 2020, healthcare workers have been on the frontline, risking their lives to care for patients with the coronavirus.  We have all heard the stories of sacrifice, generosity, and brotherly love by healthcare workers–  doctors, nurses, respiratory therapists, and support staff.  In honor of their dedicated faith-filled service, Mission Doctors will recognize all Catholic healthcare workers with the 2020 Catholic Doctor of the Year Award at the Archdiocese of Los Angeles Healthcare Professionals Annual Mass.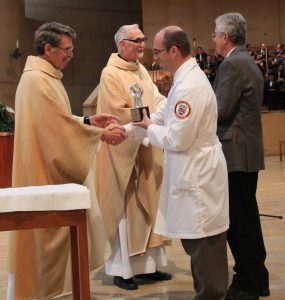 Find the list of all previous awardees here.
The annual award is given in recognition of the efforts of a doctor who has responded to Christ's call to "Heal the Sick" as a member of our Catholic faith community and in doing so has made a World of Difference.